On Tuesday, November 16, The Connecticut Assisted Living Association recognized Masonicare at Mystic with the Purple Flag for Dementia Care™ accreditation at their community located in Mystic, Connecticut. This is the fourth accreditation CALA has awarded and the second Masonicare community to be accredited, with the first being awarded to Masonicare at Ashlar Village on February 24, 2021.
To achieve accreditation, Masonicare at Mystic underwent the rigorous application process, which consists of an audit, the implementation of 10 themed procedures, and Purple Flag for Dementia Care's 60 practice recommendations. By doing so, Masonicare at Mystic has demonstrated compliance with performance standards to enhance the quality of services provided to their residents who live with Alzheimer's disease and other dementias.
The Purple Flag for Dementia Care™ Governance Committee has been hard at work recently to generate awareness and growth of the accreditation. With the addition of Masonicare at Mystic as an accredited community, not only does it recognize the quality-of-care their residents receive, but it also adds another well-respected community as a credible advocate of the Purple Flag for Dementia Care™ program.
"CALA is especially pleased to award a second Purple Flag accreditation within one corporate organization. Masonicare has demonstrated leadership in the field being the first organization to earn two Purple Flag accreditations," said Christopher Carter, CALA president. "Welcome to the Purple Flag family," added Carlene Rhea, Purple Flag Governance Chair.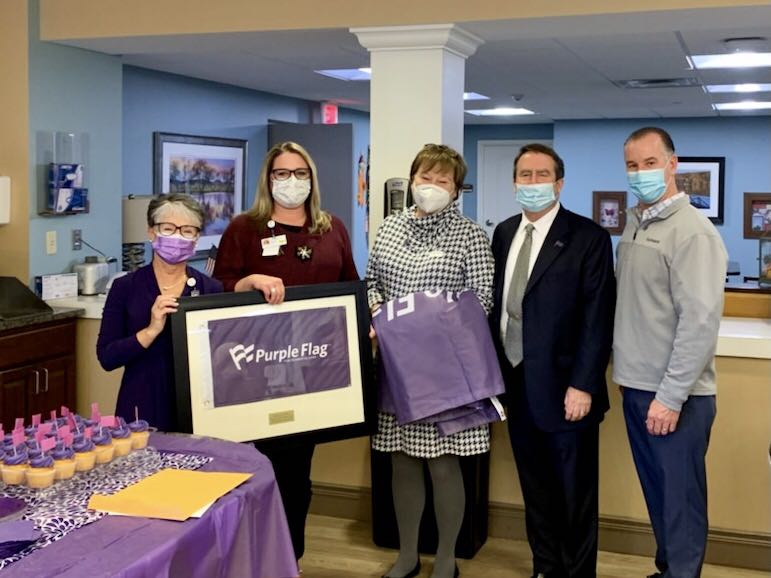 Earlier this year, CALA announced the launch of the Purple Flag for Dementia Care™ website where people can go to learn more about the accreditation and Purple Flag mission. Masonicare at Mystic's Purple Flag Accreditation also marks the fourth accreditation to be awarded, with the first being made to McLean in February of 2020 and another being made to Maplewood at Stony Hill in July of 2021. CALA expects that Purple Flag will continue to grow in and outside the state of Connecticut. Several other Purple Flag applications are currently pending, and CALA expects to award additional flags later this year. You can learn more about the Purple Flag for Dementia Care™ accreditation by visiting www.PurpleFlag.org or by calling 1-800-291-0555.
Purple Flag for Dementia Care™ is an accreditation program developed to recognize excellence and drive continuous improvement in the quality of services delivered by providers and their staffs who care for individuals living with Alzheimer's Disease and other dementias. Purple Flag for Dementia Care™ was developed in collaboration between the Institute for Senior Living Education (ISLE), the Connecticut Assisted Living Association (CALA) and the Alzheimer's Association Connecticut Chapter in an advisory capacity. Upon accreditation, providers receive the distinctive purple flag as a symbol that communicates to the general public and consumers their commitment to leadership in the area of memory care.